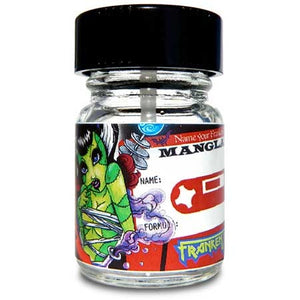 Franken Jugg's™ Franken Stein - Empty Mixing Bottle
For mixing only. Not intended for long term storage. Creating a monster? Our dumbest idea yet is the biggest industry innovation since ... matte nail polish. We made these wide-mouth empty "Franken-Steins" to make the work of frankening a buttload easier. Each Franken Jugg™ comes with 2 ManGlaze® Amazeballs.
Wide Mouth Frankening Jug
Two Stainless Steel Mixing Balls Included
Name your concoction, write it on the label, and share it with others
'Franken Juggs' art by Australian artist Tegan Coddington!
We recommend that you only use ManGlaze® Franken Juggs™ with ManGlaze® Matte Nail Polish, cuz they're just too awesome to hold any glossy crap. It's a good idea to swish or stir instead of shaking, so as to keep the bottom of the wide lid clean. Most nail polish is flammable so please make sure you Franken in a well ventilated area, far away from any type of flame.