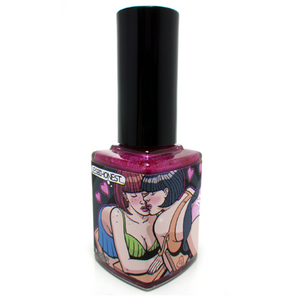 Lesbihonest™ - Fuchsia
Lesbihonest™. What could be hotter? 'Marcie Makes Her Move' label art by Jason Goad.
Fuchsia Matte Nail Polish, with super tiny mica sparkly shit that makes it look way awesome, 11 ML. 0.37 FL. OZ.
Our Original Tough, Fast-Drying, Manly Matte Finish 
Formulated for Ugliness
Big 3 Toxin Free & Cruelty Free
NOTE: Please look at PICS before you buy. No refunds for missed color expectations.