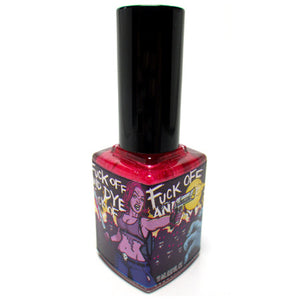 Fuck Off & Dye™ - Pink
Yup. It's fucking pink. Bright enough to distract a hoard of zombies while you do that one-handed shotgun cock thing. Ok, that sounds odd. But if you wanna keep your brains, you gotta be able to reload on the fly. FO&D comes wrapped in a horrific scene by the talented and quick wrist of artist Jason Goad.
Pink Matte Nail Polish, with super tiny mica sparkly shit that makes it look way awesome, 11 ML. 0.37 FL. OZ.
Our Original Tough, Fast-Drying, Manly Matte Finish 
Formulated for Ugliness
Big 3 Toxin Free & Cruelty Free
NOTE: Please look at PICS before you buy. No refunds for missed color expectations.