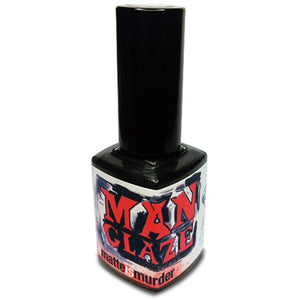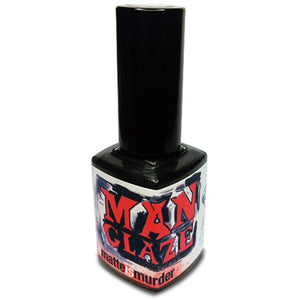 Matte is Murder™ - Matte Black Nails Polish
Once upon a time, there was no such thing as matte black nail polish. The only thing you could do at that point was suck. It really sucked. Then ManGlaze created the original matte black nail polish for men and really foxy ladies. Released in 2007, it had previously been called 'The Death Tar'. Other colors may come and go, but this one is here to stay. Available in two label options by Jason Atomic - 'Manko Attacks!' or 'Atomic Lefty'
Pretty fucking Matte Black Nails Polish,

 with super tiny mica sparkly shit that makes it look way awesome, 11 ML. 0.37 FL. OZ.

Our Original Tough, Fast-Drying, Manly Matte Finish 
Formulated for Ugliness
Big 3 Toxin Free & Cruelty Free
NOTE: Please look at PICS before you buy. No refunds for missed color expectations.